Dentistry for Children, Teens, and Adults
Enjoying is essential during each phase of life, from a patient's young years through the older ages. DentalWorks - Hyperlingo provides a large number of all-encompassing family dentistry techniques to you and your loved ones enjoy the advantages of great dental health at. In the event that you or your family need child-focused dental care, corrective treatments, aesthetic dental services, or later-life care, our facility offers exceptional care that you can count on. During your family's oral health exams, Dr. Dentist Two will examine their teeth, gums, and jawbone to diagnose any dental problems that could be hurting their smiles. They will then select the ideal procedures to take care of their varying dental demands. Get in touch with our City, ST office as soon as possible to set up annual visits or biannual professional cleanings for each relative in your household.
Reviews
"I really like this practice everybody remembers my name, they always remind me of my appointments ahead of time and they're doing a really good job keeping ahead of this whole covid19 thing."
- T.T. /
Google /
Jul 03, 2020
"I've been going to Fairfield Dental Care for years! They are the best."
- E.P. /
Google /
Jun 25, 2020
"The staff is always professional and kind. I was very pleased with their covid procedures. I request Miss Cathy as our hygienist everytime. My kids (7yrs and 6yrs) LOVE her!"
- R.K. /
Google /
Jun 10, 2020
"Great care taken with new concerns on protection during COVID. Felt safe. Courtesy is always at their best."
- N.R. /
Google /
Jun 09, 2020
"Very good experience. Love the compliance and measures taken for COVID 19. Also, same staff and super friendly."
- R.W. /
Google /
Jun 03, 2020
Previous
Next
Candidates for Family Dentistry
People in any stage of life need to receive thorough dental cleanings and checkups about two times annually, or more frequently if they feel any amount of minor or serious pain or sudden or chronic irregularities. parents or guardians their kids attend their first oral exam before turning one, as recommended by the (). In situations where dental concernsincluding periodontal disease and cavities are found early, most treatment options will generally be more effective. At DentalWorks - Hyperlingo, we are proud to offer a number of family dentistry options for people of many ages and stages of life, including toddlers, children, adolescents, men, women, expecting women, and geriatric patients.
What to Expect During Your Visit
Regular dental appointments should usually comprise an assessment and an in-depth teeth cleaning. At your annual exams, we will screen for cavities, gum disease, temporomandibular joint discomfort, and any symptoms of other abnormalities. We will then discuss some potential treatment options. Our diverse family dentistry treatments are intended to meet a wide variety of needs, from general dental alternatives, like sealants, to dental fillings and dentures. Dental-care requirements shift during a patient's younger, adolescent, adult, and elderly parts of life. has a comprehensive understanding of the dental wellness issues that occur during these ages and will collaborate with your family to help every one of you receive the benefits of a hygienic smile.
Maintain Your Oral Health
At the conclusion of every assessment, and Their staff can help you develop a personalized care plan to improve and preserve your family's oral wellness. An important to your dental wellness is to develop a decent dental cleaning routine between visits that consists of precise toothbrushing and flossing twice a day. Someone on our team can demonstrate proper toothbrushing techniques and give you advice about addressing areas that might demand more attention. Routine visits to DentalWorks - Hyperlingo our staff keep track of your relatives' dental health and pick up on early-onset oral problems before they progress to more severe concerns.
Insurance Coverage for Family Dentistry
Numerous family oral therapies are covered by insurance. To learn about your exact coverage, our financial staff will assess your individual plan and offer you a calculation of any remaining costs. DentalWorks - Hyperlingo aims to make family dental therapies accessible for every patient and takes a range of payment solutions, such as low-interest dental payment plans.
What is a cavity?
Cavities begin as decay caused by bacteria in the mouth left by sugar-filled drinks and food, poor oral hygiene, or not visiting your dentist on a regular basis. These factors create a small hole, or cavity, in the enamel of the tooth. If left untreated, this small hole can turn into a big problem.
What causes cavities?
Harmful bacteria in the mouth, usually left by sugary drinks and foods, turn into a substance called plaque when not removed in a timely manner. The acid in the plaque erodes the tooth, weakening it, and causing a hole, or cavity in the enamel.
Factors that raise the chance of developing a cavity include:
Not brushing and flossing your teeth twice a day

Not visiting your dentist for an exam and cleaning twice a year

Tooth shape

A high gumline

Dry mouth

Consuming excessive sugar (soda, candy, juices)
What are the symptoms of a cavity?
The symptoms of cavities vary depending on how large the cavity is and where it is located. The symptoms of a cavity include:
A toothache or pain in the tooth

Sensitivity in the tooth to hot or cold temperatures

Mild to sharp pain when eating or drinking

Visible holes in the tooth

Stains that are brown, black, or white in color on the tooth's surface

Pain when you bite down
How are cavities treated?
A cavity is usually removed from the tooth and the resulting hole is protected with a filling. If the cavity is too large for a filling, you may need an alternative treatment such as a dental crown, custom onlay, inlay, or root canal. If you do get cavities frequently, ask your dentist about preventive options such as fluoride treatments and dental sealants.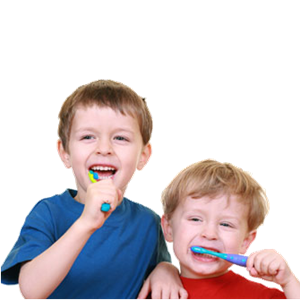 Quality Care For Your Family's Smiles
Defending your family's teeth against painful dental problems is essential at every period of life. At DentalWorks - Hyperlingo, our team is happy to provide innovative, effective procedures to improve the oral health of infants, teens, and adults. Discover the advantages of family dental care by setting up an appointment with Dr. Dentist Two at our City, ST practice today.
Related Procedures
Related Posts